SAN FRANCISCO -- Salesforce Dreamforce -- When IBM was founded in 1911, punch cards were hot new technology. How does a company that old stay on top of emerging technology such as the cloud, artificial intelligence, quantum computing and blockchain?
"You have to be willing to change everything about yourself but your core values," IBM Corp. (NYSE: IBM) CEO Ginni Rometty said in an on-stage conversation with Salesforce.com Inc. CEO Marc Benioff here this week. That's the real key to successful digital transformation.
She summed up IBM's core values in a few principles: "Dedication to every client's success, innovation that matters for ourselves and the world, and trust and responsibility in all our relationships."
Benioff and Rometty talked for about an hour about the role of emerging technology such as artificial intelligence in shaping business and the the workplace, as well as Rometty's own career and IBM's history of championing diversity.
'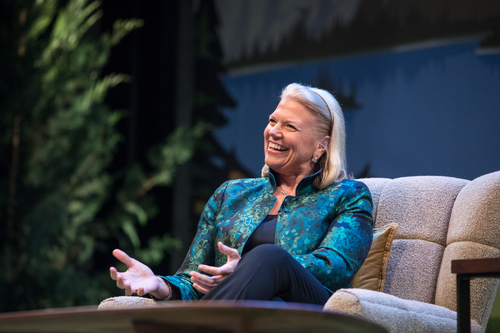 ---
Keep up with the latest enterprise cloud news and insights. Sign up for the weekly Enterprise Cloud News newsletter.
---
It was a relaxed and positive conversation between two friends. Benioff described Rometty as "the top female CEO in the world."
Not mentioned: Revenues at IBM have declined 22 consecutive quarters, with the company posting non-GAAP revenue of $19.2 billion in its most recent quarter. Cloud revenue grew annually to $15.8 billion, but that wasn't enough to push overall revenue up. The company's "strategic imperatives" businesses, including analytics, cloud, mobility and security saw $34.9 billion revenue over the trailing 12 months, up 10%. (See IBM's Long Decline Continues, Despite Cloud Growth.)
Benioff noted that Rometty has been at IBM 36 years, and asked whether she expected to be CEO when she started.
"Of course not," Rometty said. "Did you think you were going to run Salesforce?"
"I did when I started it," Benioff said, which got a big laugh from the audience. (It was the timing. The line doesn't read as funny as it sounded.)
Rometty said she started working at an auto company ("a good one," she said, when asked to name it; in response to which Benioff noted that IBM has multiple auto companies as customers), but switched to tech because she had a passion for tech but not for autos. It was the difference between a mere "job" and a "career," she said.
Similarly, when Benioff interviewed Diane Greene, Google (Nasdaq: GOOG) Cloud senior vice president, earlier in the week, she said she started in the oil business but switched to tech early in her career. (See Google's Diane Greene Opens Up on Her Life & Career.)
Benioff asked if IBM's founders were still around when Rometty started at IBM. Rometty's response got another big laugh. "How old do you think I am?" she said. "IBM is 106 years old. I am the ninth CEO, not the third."
Fast-forward to today, and the challenges IBM -- and society -- face. "Data will be one of the key issues of our time," Rometty said. "Clients have trusted us with their most precious asset, which is their data."
IBM's principles regarding customer data: "Your data is yours, not mine to give away," Rometty said. Similarly, the customer owns the insights from artificial intelligence. And the customer decides what country data resides in, not the government.
"We're the only tech that has never given government access to data," she boasted.
AI will be transformative, which creates enormous responsibility for companies such as IBM and Salesforce that are pioneering the technology, Rometty said. "Things like AI -- it is our job to usher those safely into the world," she said. (See At Dreamforce 2017, Salesforce Doubling Down on AI.)
However, some are skeptical Watson will prove transformative for IBM's business. (See IBM Watson Faces Tough Road – Analyst.)
Next page: Watch out for AI 'fearmongering'
IBM uses the phrase "cognitive computing" as well as "AI," because the company sees the role of AI as augmenting people, not replacing them, Rometty said.
Principled use of AI -- or cognitive computing -- requires transparency, Rometty said. People need to be told what data is being used for AI, and who trained the AI.
"You can train bias if you're not careful," Rometty noted. (See MIT Technology Review: Forget Killer Robots – Bias Is the Real AI Danger.)
In the future, people will work with machines everywhere. "It will be man and machine for everything," Rometty said. "We have to prepare the world for that. That's not a small thing."
Every company will transform to digital -- which means data will make the difference between winners and losers, Rometty said. "If everyone is digital then who wins?"
The value of data will give incumbent companies -- who already have data on their business -- competitive advantage. "If you have a past, it just may be to your advantage now. You'll be a learning organization and make better decisions," Rometty said.
As with previous technology revolutions, AI will destroy some jobs, create others and transform all jobs, she said.
She cautioned against AI "fearmongering" and said the Singularity is "decades and decades and decades" away.
Meanwhile, AI can do a lot to help human problems. For example, India is rolling out Watson for Healthcare in 120 hospitals. She cited statistics showing India has a gross shortage of oncologists to treat its population.
Education can improve economic inequality. IBM is working with schools in public-private partnership to allow students to get access to high-tech jobs in a six-year high school program. "We coined the phrase 'new collar jobs,'" Rometty said. "Not blue collar or white collar. Those are stereotypes. You don't have to have a PhD or university degree to have a job related to technology." (See IBM's Rometty Announces 25,000 'New Collar' US Jobs Ahead of Trump Meeting.)
Some 100,000 students are going through the program, with electronic mentors donated by 300 companies, and a chance at a job with twice the median salary on four continents, many of them with IBM, Rometty says.
"These problems are ultimately solvable. It is public and private working together," she said. "We can make a difference in every country we operate in, in 170 countries."
IBM also sees blockchain as transformative. "Blockchain will do for trusted transactions what the Internet did for information," she says. Blockchain enables transactions between people who "don't like or trust each other." (See IBM, Microsoft Rank in Blockchain Survey.)
IBM is testing blockchain for use with food safety, to reduce $100 billion worth of wasted food. For example, blockchain can help pinpoint foods needing recall for safety reasons. The test started with pork and mangoes, tracing supplies "from farm to fork," a task which used to require seven days and now can be done in seven seconds. Effective tracking of the food supply chain can reduce food safety issues. (See IBM, Partners Using Blockchain to Protect Food Supply.)
Quantum computing is another area of technology in which IBM is investing. This new, powerful form of computing has the potential to solve many problems -- but also create some: for example, by breaking known forms of encryption. IBM feels an obligation to look ahead to help mitigate those concerns, Rometty says. (See IBM's Quantum Computing Coming to the Cloud.)
And that's a good place to stop. Rometty had more to say, about why some people succeed, and diversity and IBM's commitment to workplace inclusiveness. We'll write that up in a day or two.
— Mitch Wagner




Editor, Enterprise Cloud News