Upcoming Webinars

Webinars are free sponsored educational seminars that are accessed over the Internet. You can register for upcoming Webinars or view archived presentations via the links below.
How IoT & Cloud Will Eat the World




Date:

5/8/2017 11:00 a.m. New York/ 4:00 p.m. London
Sponsors: 151 Advisors
More information and registration

The cloud is changing the ways in which enterprises approach business. At the heart of the digital transformation that many companies are undergoing, the cloud is the base from which other technologies are implemented. The Internet of Things (IoT) is one such technology that grows out of enterprises using the cloud. By the end of this year, Gartner predicts that more than 8 billion "things" will be connected. IoT is changing the way manufacturing, retail, healthcare and other businesses interact with customers, enabling them to draw on rich veins of data to make decisions. How the cloud enables IoT and how IoT will change everything we do, from making airplane turbines to how we drive our cars, is essential to understanding our new digital world. Join Enterprise Cloud News as we see how cloud and IoT are changing our lives, and how these two technologies are taking over our world.
Microsoft, Google, IBM, Alibaba and Oracle might have grown more in the first quarter of 2017, but AWS remains in a class by itself in the public cloud market.
Amazon released its first-quarter financial results on April 27. Although AWS once again slowed a bit, the company's public cloud platform is still pulling in impressive amounts of money for the retail giant.
Changes in how enterprises and their IT departments are using the cloud has Cisco thinking about where multicloud is and where it's going.
Oracle is continuing to build out what it can offer in the cloud and it's adding artificial intelligence to its Customer Experience cloud.
IBM is opening data centers in Dallas and Washington DC as part of its cloud plans for 2017.
MWC: Who Does Cloud Best?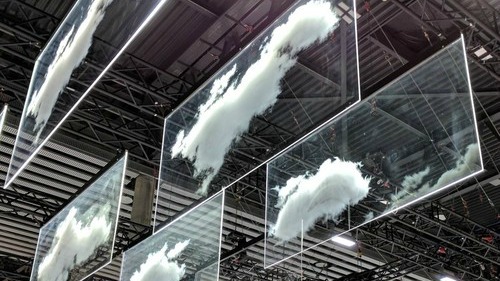 Slideshow archive